We'd already met Annie on our website as Annie the Lady with red hair and the dogs. She told us about arriving in Resolven eleven years ago. In this story, Annie told us about her first experience of a coach holiday.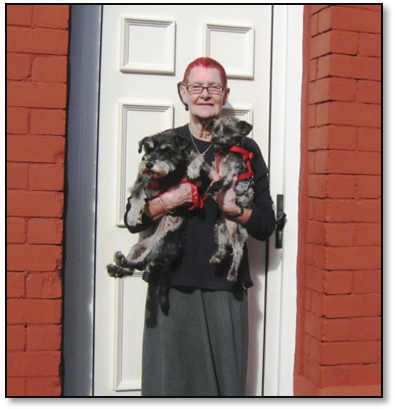 "Many years ago I remember watching a Benny Hill sketch starring Barbara Windsor about coach tour holidays.  It was all speeded up and so very funny. I laughed and laughed but at the same time I said to myself 'you will never catch me going on one of those'. Famous last words!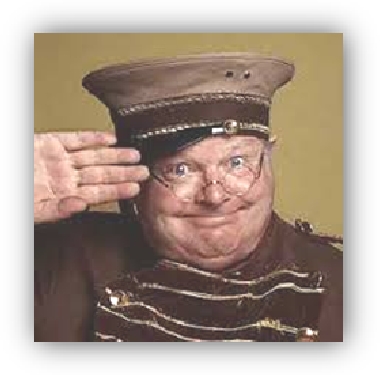 In 2006 I was on the road to recovery after months of treatment for a serious medical condition. When I was first diagnosed I had set myself three goals.  Namely, 1) Beat the 'dreaded lurgy' – which I did.  2) Lunch on the Northern Belle – which I did too.  3) Go on holiday – until then I had always taken my two dogs Hope and Glory with me. We often stayed in a hotel in Sidmouth which took dogs.  But this holiday was to be the first on my own.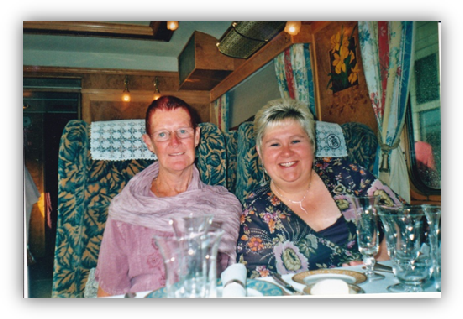 ANNIE WITH FRIEND ON THE NORTHERN BELLE
I wanted to visit Scotland the homeland of my Grandma and Grandpa McNicol but how would I get there especially as I didn't drive.
Yes, you have guessed it a coach tour would be my best option.
GRANDMA McNICOL
I contacted a local coach tour operator and Bob's your uncle (or should I say Benny's) everything was arranged.  Oban was to be my base for the five day break.
A busy itinerary was on the agenda so there was no chance of getting into mischief.
WISH ME LUCK AS YOU WAVE ME GOODBYE!
My pick up point was the bus stop outside Neath Railway Station at the crack of dawn.   As I sat in the bus shelter a 'gentleman of the road' came and sat down beside me.   He made his acquaintance whilst he drank a cup of tea which the Station Master had given him.
He was a Scot who had fallen on hard times and been on the road for a number of years.   He desperately wanted to get back into society.   He had an appointment that afternoon which was to help him achieve his aim.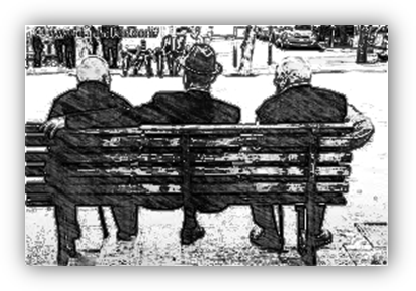 The next minute another 'gentleman of the road' sits down and then another, so now there are three.   One Scot, one Irish man and a man from the North of England – quite cosmopolitan.   As you can imagine a wide range of conversation took place.
My coach arrived and as I went to board the three 'gentlemen' come to wish me good luck and waved me off.   I reciprocated and felt quite humbled.
ANTICIPATION


It wasn't exactly the send off anyone would have envisaged – certainly different.   As I took my seat I was wondering what my fellow travellers were thinking.   Never mind, just sit back, relax and enjoy the ride as they say.   I could hardly ask the driver to stop and let me off.

During our long journey to Oban we were all gradually getting to know each other and the ice was broken.   Another lady who was travelling on her own and I would enjoy a cup of coffee together on our 'comfort stops'.

By the time we reached our Hotel I was very much at ease and looking forward to the excursions and having the company of new people.
SOUL SEARCHING
After a couple of busy excursion days there was to be a free day in Oban.   An optional half-day tour was on offer but I declined as I wanted the chance to explore.
In the afternoon I discovered the War Memorial with its gardens set up high overlooking the sea.
I studied the names on the Memorial but there was no mention of McNicol.   However, on subsequent tours of Scotland I have found the name depicted.
As I sat down on a bench looking out to sea a young man approached and asked if he could join me.   I said yes of course.   He was married with a three year old daughter, was a lecturer at Stirling University, and had just acquired a puppy.
COMRADESHIP
The next day we all eagerly boarded the ferry to the Isle of Mull.

It was a lovely sunny day and I sat on deck to make the most of the views and take in the fresh air.

On arriving at Mull we had a splendid tour of the Island.   From there we took another boat over to Iona.   Our coach driver had allocated us plenty of time to explore the Island before we were all due to meet up.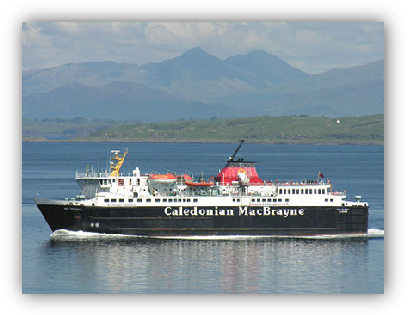 The 'comfort stops lady' and I headed off together it was such a lovely tranquil place with heaps of history.   There was even a little pub where we took refreshment.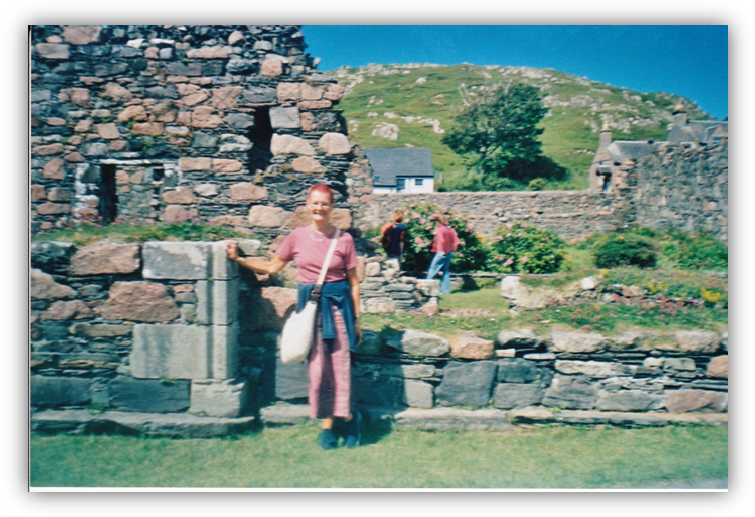 The time came to make our way back to the coach. As is normal a head count is carried out by the driver to ensure his 'charges' are all present and correct. However on this occasion one appeared to be missing! He was an elderly gentleman who was on his own.   Everybody was concerned about him. A search party was set up to go and find him. Eventually one hour later the wanderer returned. He had mistaken the meet up time. The coach driver was still smiling and kept his cool despite the fact there was a deadline to catch the last ferry back to the mainland.

Needless to say the gentleman in question was always first on parade after that.
As a lone coach traveller I have met many interesting people from all walks of life along the way. The company is there when you want it or you can do your own thing – the choice is yours. You are well looked after and in safe hands."
MORAL OF THE STORY IS 'NEVER SAY NEVER'!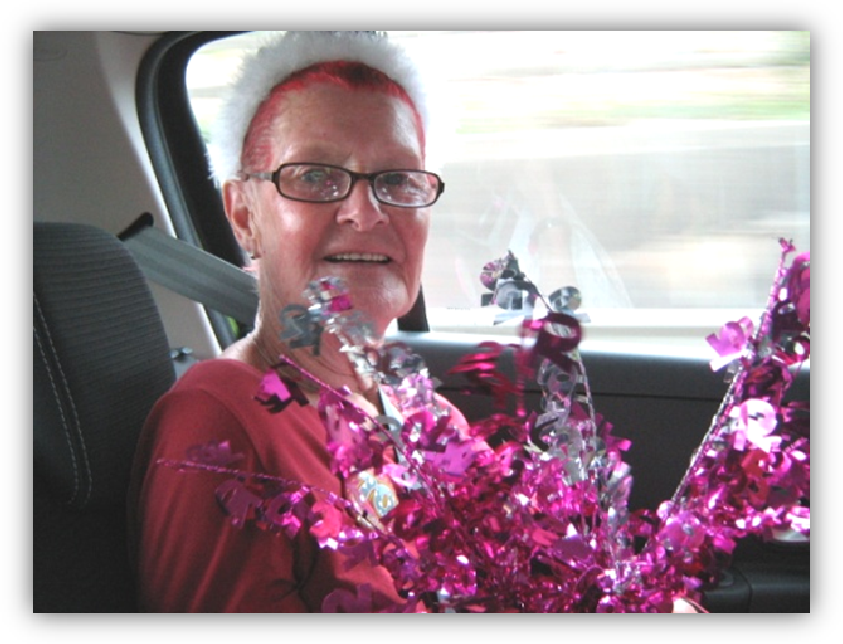 ANNIE CELEBRATING HER 70TH BIRTHDAY
http://resolvendistrictnews.co.uk/wp-content/uploads/2017/10/wpdada76ff.png
517
755
Siteadmin
http://resolvendistrictnews.co.uk/wp-content/uploads/2017/10/logo-1-300x41.png
Siteadmin
2017-10-12 21:45:24
2017-10-12 21:48:10
Annie Goes On A Holiday