Following the sad passing of Redvers Davies on the 12th of February here follows the contents of an article placed in the One Voice Wales monthly on line newspaper last year. I worked with Redvers Davies on the Community Council for twenty seven years and it is remarkable that I do not recall us ever falling out on an issue. A remarkable man, a full life and active to the end and we will all miss him.
Trefor Jones (Chairman) , Resolven Community Council
                                                       Redvers-54 years a councillor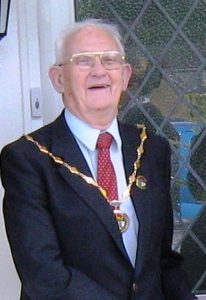 Solomon Northup was recently portrayed in a feature film as someone who had been "Twelve Years a Slave", against his will. This is counterbalanced by the feat of Resolven Community Councillor Redvers Davies who, at the age of 90 has completed fifty four years in public life quite voluntarily. This makes him the oldest serving councillor in England and Wales.
Redvers was born in the small village of Pontwalby near Glynneath on the 30th May 1927. He was educated at Glynneath Boys School and Neath Technical College. During the 1939-45 war, he served as a Bevin Boy at the Rock Colliery, Glynneath. He recalls vividly, that having lost his father at only seventeen years of age he was given special dispensation to look after his mother by working locally. After the War he attended night school at the Trefforest School of Mines, which sometimes led to a very long day having to return to work a night shift at the Empire Colliery, Cwmgwrach. Subsequently, he became a fully qualified mining engineer and worked across the South Wales coalfield in an array of collieries. When the coal mining industry started its long decline, Redvers began a new career working for Calor Gas at Aberdulais where he worked for twenty five years until his retirement. In March 1952 he married his wife Jean, a nurse, in St. John's Church Skewen.
His political career in local government started in 1963, when he was elected on to the Neath Lower Parish Council. In 1984 following the advent of community councils, he began representing Abergarwed on the new Resolven Community Council a seat which he holds to this day. In that time he has been Chairman and vice Chairman a total of six times, which is quite a feat. He then took on duties at national level, holding several committee posts with NALC and was also Chairman of the Wales Council for two years. Following the establishment of One Voice Wales after devolution Redvers became a member of the Executive committee as well as chairing a number of other committees. He has very recently been re-elected Chairman of the Neath Port Talbot Area Committee (they will soon say that life begins at 90!!).
He also has an interest in the field of Health and was a Welsh Assembly  member of the Community Health Council for ten and a half years as well as serving as a member of the Statutory Reference Group of Abertawe Bro Morgannwg Health Authority.  Redvers combines this with an active interest in the local CVS as a trustee, secretary of the Abergarwed Welfare Fund, Chairman of the Neath Port Talbot Tinnitus Group and in his "spare", time volunteers for work as an assistant librarian in the Resolven Cyber and Resources Centre.
Redvers also maintains an interest in sport. It should not be shouted from the Resolven rooftops that as a young man, Redvers Davies captained Resolven's arch rivals Glynneath RFC at rugby. He also has an interest in cricket which he followed avidly with his late wife, before her death in 2010.
In the age of Twitter and Facebook it is remarkable that the community of Resolven managed to keep the fact that Redvers had a surprise birthday party lined up for him at the Miners' Welfare in Resolven. On a sweltering evening, Redvers ( in his best clothes) had been told by his daughter that he was being taken for a family meal only to be surprised by a rousing "Happy Birthday", sung by over sixty guests ( in casual clothing) including his two grand-daughters and three great-grand-daughters. He was then presented with a plaque by the Chair of Resolfen Community Council, Trefor Jones, noting his remarkable achievement. This was all the more noteworthy in that Redvers had the distinction of being the longest serving, if not quite, the oldest councillor in England and Wales.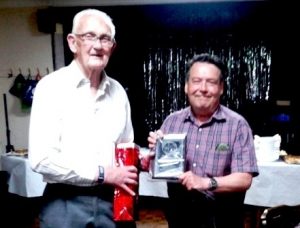 The message is clear, if you want to live a long and prosperous life, keep active. If you want it to be even more interesting and worthwhile become a councillor!!!!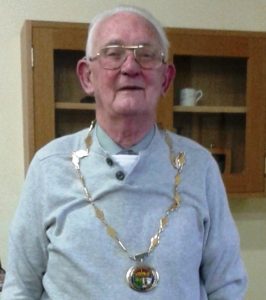 Post script: Redvers was to be recognised at the AGM of One Voice Wales in October, unfortunately he was in hospital following a fall at home.
https://resolvendistrictnews.co.uk/wp-content/uploads/2017/10/logo-1-300x41.png
0
0
Ed1
https://resolvendistrictnews.co.uk/wp-content/uploads/2017/10/logo-1-300x41.png
Ed1
2018-02-27 15:05:21
2018-02-27 15:05:21
Remembering Redvers-54 years a councillor