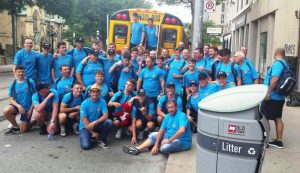 This is the first year for quite a while that there will be no junior rugby teams in Resolven.  The talented group of youngsters who "kicked off" together as under 7's and played through to the under 16's are now all in the Resolven Youth team. But before the start of their first season as a youth team and to mark all the years they've been together, the boys and family and friends went on tour to Toronto Canada. Lyn Roderick, Resolven Youth fixture secretary and father of the Youth Team Captain Bradley was one the dads in the party;
"We needed £3000 to help towards the boys' costs.-a huge amount but with a bit of "beg and borrow", discos, "stars in their eyes" and even a duck race among other events, we got there in the end. The original target was nearer £6000 when we began looking at prices with travel agents, but my wife Yvonne took over and organised it all- the flights, the accommodation and the sightseeing. She saved an awful lot of money.  In the end, the boys only had to contribute £200 each towards a fantastic trip.  We were based in Toronto in the same hostel for the whole week. We even had a whole floor to ourselves-48 of us, 26 boys and the rest were friends and family (mostly dads).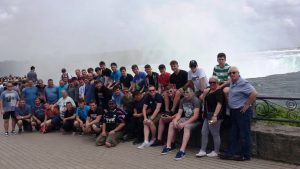 Only 2 matches were scheduled so that we could do some sightseeing. We travelled everywhere in a yellow school bus, (that was arranged by Yvonne too).  We went up the CN Tower, visited the Water Park- all mega-and went under Niagara Falls on the Lady of the Mist boat.  Amazing!  It will stick in my mind for ever.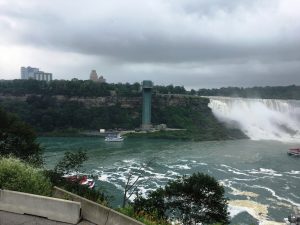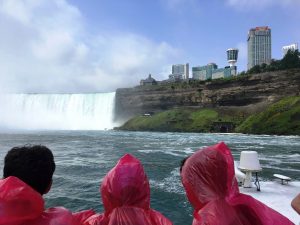 Everything worked so well on the trip; even though we only played I match.  It was against the Toronto Nomads and Resolven won it- 80 points to 5. The boys exchanged team shorts and handed the Nomads a miner's lamp made by one ot the parents
Good memories -making it well worth all the effort. It will stick in my mind for ever".
LYN RODERICK
 Update on Resolven Youth –they are in top position in their division at the moment.
https://resolvendistrictnews.co.uk/wp-content/uploads/2017/10/logo-1-300x41.png
0
0
Ed1
https://resolvendistrictnews.co.uk/wp-content/uploads/2017/10/logo-1-300x41.png
Ed1
2017-11-28 22:20:27
2017-11-28 22:20:27
Resolven Youth Rugby Abroad