Down The Social with Owen Money
In this 4-part series, Owen is joined by Ebbw Vale performer Mandy Starr to visit a number of different social clubs.  The first episode is at the Merthyr Ex Servicemen's Club on Monday 16th of September at 7.30 pm
The second episode features Resolven Miners Welfare (Monday 23rd September at 7.30 pm) and sees the comedian and Radio Wales presenter visit a club that was once the pride of its Valley, but now faces an uncertain future
Resolven Miners Welfare– Contrary to appearances on the outside, inside the club is thriving and hugely popular with its 200 members. And it holds another secret –   a part of it that very few people now get to see.
Joined by veteran club performer Mandy Starr, Owen is taken behind locked doors to a hidden art-deco theatre. They both get a chance to explore the 340-seat hall, that was once home to vibrant opera nights and entertainment shows. However, it's been left in a dilapidated state ever since its doors closed 17 years ago when it was deemed unsafe for the general public.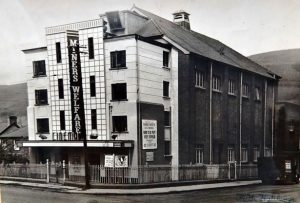 Those performing at the club today are getting by with a makeshift stage now in the bar area. But there is a hope that, one day, the theatre can return to its glory days.
The club faces an even bigger, more pressing problem though – the general state of the building. Unless they can find the money to make the building safe, the insurance company won't cover them, and they'll have to permanently close the doors on Resolven Miners Welfare. They're in a race against time as they have just four weeks to find the £10,000 they'll need to make the building safe.
Owen digs deep into the history of the club, and how it's helped out the community in times of need. In the early months of the 1984 Miners Strike, the women of the club set up a soup kitchen – the first in the country – to help support and feed the kids of miners who were surviving for months without income. Club Stewardess Diane Sims tracks down video footage of those events to give a younger generation an insight why places like the social club really matter.
http://resolvendistrictnews.co.uk/wp-content/uploads/2017/10/logo-1-300x41.png
0
0
Ed1
http://resolvendistrictnews.co.uk/wp-content/uploads/2017/10/logo-1-300x41.png
Ed1
2019-09-16 13:53:47
2019-09-16 13:53:47
Resolven Welfare Social Club on BBC Wales TV