Second showing for these photos as we  still haven't managed to put names to all the faces-can you help an old schoolmate?  Here's the email we received   earlier this year from  Helen Corps (née Nicholls and known at school by the name of Sally)
Hello Resolven District News!
I came across your site whilst googling for a newspaper local to Resolven.  I lived in Resolven from 1957 to April 1961 before moving to Reading where my family still lives.  Recently,  whilst with my mum, we were going through the box of old black and white photos , she brought out some class photos  taken during our time at school in Resolven.  I had never seen these photos before.  My mum had written our classmates' and teachers' names, as far as she knew them, on the back of the photos.. I would be delighted to be able to confirm names and add names to complete these lists with the help of RDN viewers
Photo 1 is of my nursery class in1960.   Photo 2 shows my brother Peter's class in 1960 and Photo 3 shows my sister Susan's class in 1960.  Photo 4 is dated 1959 and is Susan's class again.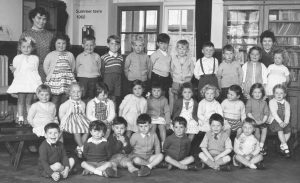 Miss Noreen,Miss Williams
Sian Evans/Karen/Colin Bennards/Ian/Leyton Case/Davies/Michael Lewis/Keryn Weefer/Alan/Carol/Alison
 Sally Nicholls/Georgean/Gillian Davies/Julie James/Cathryn Perry/Linda/Janie/Pat/Molly Evans/Linfa
 Howard Rees/Stephen/Wayne Jenkins/Geoffrey/Wayne Addiscot/Owen/Randall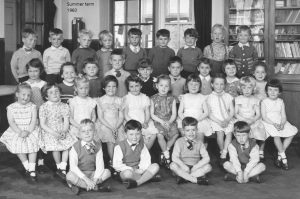 Peter Nicholls/Roy Gillespie/Adrian Davies/Paul Tregonning/Melville Morgan/Keith Llewellyn/Lynn Gillard/Ivor Jones/David Weeter
 Katrina/Judith Pritchard/Nicholas Jarrett/Robert Bordon/GarethEdwards/Lynn Evans/Julia Roner/Pat Jones/Gina
 Jane Newberry/Frances Lewis/Christine Price/Theresa Leman/Heather Davies/Wendy James/Linda Roberts/Joyce Welstead/Jean Powell/Pauline Billen
 Christopher Osborne/John Davies/Tony Davies/Maldwyn Machie
Jimmy/Howell Rees/Peter Williams/Stephen Perry/Glen Alan/John Morgan/Lyn Davies/Alan Jenkins/Lyn Jones
 Judith Jones/Ceryl Norton/Gillian Winters/Ann Jones/Linda Jenkins/Peggy O'Donnall/Kathleen Williams/Glynis Collard/Jane Sweetman
Karen Hale/Colleen Beynon/Eluned Davies/Janice Morgan/Pam Wellbourne/Julie Davies/Susan Ncholls/Cheryl Davies/Deborah Jenkins/Yvonne Godfrey
 Kerry Roberts/Colin Sims/Michael Jones/Gareth James
If you can help complete Helen's list, email us on  am@resolvendistrictnews.co.uk and we'll pass the names  on to her.
http://resolvendistrictnews.co.uk/wp-content/uploads/2017/10/logo-1-300x41.png
0
0
Ed1
http://resolvendistrictnews.co.uk/wp-content/uploads/2017/10/logo-1-300x41.png
Ed1
2018-11-04 13:45:23
2018-11-04 13:45:23
School Photos-are you here?