The following text is information from Ross the Pharmacist at the Resolven Chemist to clarify their position after closure of the Resolven Surgery.
~~~
I have had many enquiries recently regarding the future of Davies Chemist in Resolven after the surgery in Resolven closes and moves to its new site in Glynneath.
I wish to reassure our customers and patients that it is our intention to remain in Resolven and continue to provide the village and surrounding areas with all its pharmacy needs.  I appreciate that we have fiercely loyal customers and would like to repay that loyalty by continuing to provide Pharmacy services long into the future as we have done for the last 29 years.

I have been fortunate enough to be the pharmacist in Resolven for the last 10 years, I have even made the village my home.  I will continue to put Resolven pharmacy forward to deliver new pharmacy services such as the flu vaccine service started last year and more recently 'Choose Pharmacy'.  It is important to me that the people of Resolven and the surrounding areas have access to all NHS pharmacy services, which include:
Dispensing NHS prescriptions
Stop smoking service
Medicine Use Reviews
Discharge Medication Reviews
MAR chart scheme
Emergency contraception
Emergency Supply service
Choose Pharmacy (minor ailments)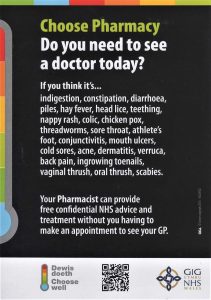 ~~~
We also have other services available such as our free delivery service.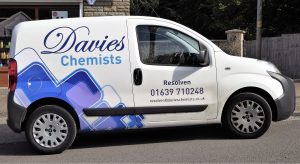 One of the biggest concerns that I am asked about is the ordering of repeat prescriptions.
I have foreseen that this was going to be a big worry for many patients.  As a result, for the last few years I have been perfecting a repeat prescription management service, with the backing of the Vale of Neath Practice, in anticipation of the surgery move.  The service involves Resolven pharmacy staff helping patients manage their repeat prescription re-ordering.  The advantages are that patients can re-order items in the pharmacy in Resolven, we will then take the orders to the new surgery in Glynneath and collect the prescriptions and dispense them ready for collection or delivery.  So, unless you have an appointment in the new health centre, you won't need to go there, we'll do all the back and fore.
As I have already mentioned we have worked hard in the last few years with selected patients to ensure the service is robust and fit for purpose.  I feel that it is a very effective way of managing and synchronising repeat prescriptions, reducing medicine waste and unnecessary hoarding of medicines at home.  Feedback from patients has been excellent and very encouraging.
Please pop into the pharmacy to find out more and even enrol now in anticipation of the surgery move.
I intend to have a prescription drop off box in the new surgery which will be emptied a few times a day.
So, if you're in the surgery and have a prescription in your hand you can either bring it to us, as many patients do at present, or, you can drop the prescription into the box and collect the dispensed prescription in Resolven pharmacy later that day or have it delivered free of charge.
Finally, for those patients who find it difficult to get to the pharmacy through mobility or due to work commitments, we are launching a dedicated prescription re-order phone line 01639 711100.  Simply give us a call to re-order any repeat prescription from the surgery and we'll do all the rest!
I would like to take this opportunity to thank all patients for their support.  I urge all patients to act now and talk to us about the best way we can help to manage your repeat prescriptions.  By doing this, by the time the new surgery is operational the disruption will be minimal, thank you.
Ross
Contact information:
Telephone 01639 710248
Email: Resolven@davieschemists.co.uk

~~~~
Compiled by Hugh Lewis (RDN Team)
http://resolvendistrictnews.co.uk/wp-content/uploads/2017/10/logo-1-300x41.png
0
0
HL & LL
http://resolvendistrictnews.co.uk/wp-content/uploads/2017/10/logo-1-300x41.png
HL & LL
2018-07-27 09:20:06
2018-07-27 09:23:23
Resolven Chemist - The Future