I was recently invited to Sardis Vestry to talk about the Miners Welfare restoration scheme. It was a Thursday afternoon and it was the weekly 'Tea with the King' gathering.  Sardis has a loose connection to the Miners Welfare as it was built by the local mine owners of the past , the Cory brothers, who also built the streets to house their workers and twice in my lifetime Sardis have generously donated to the Miners Welfare – during the miners' strike in the 80s and to the present restoration scheme.
Chapel is so much more than hymns sermons and worship – there is a social side too. My visit there  this invoked so many memories from my childhood and many of them centre around Marlene Jervis – or to anyone my age her full title would be 'Aunty' Marlene As a child I went to children's meeting in the vestry with her daughter Sharon on a Tuesday and the highlight for me was watching Aunty Marlene play the piano accordian which she even carried around the village for the annual Christmas carolling. In fact, I thought she lived there as whenever I went there or passed there Marlene and her husband John along with Sharon's grandparents were always there or thereabouts . I cannot imagine Sardis without Marlene .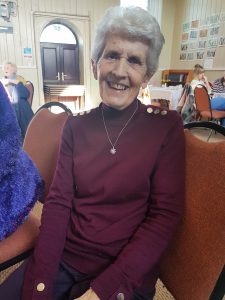 Whitsun was always a big event when we were kids too and although I marched with the Salvation Army I would wave to Sharon marching with Sardis. Whitsun teas were always open to all with sports down the park field afterwards that saw the most competitive rounders matches I ever witnessed .
As I grew up, Sardis became a chapel that held weddings and christenings and Christmas nativity plays but the older I get the more I see and hear and realise Sardis is not a Sunday only place but it has a social side that is varied and busy. Apart from Sunday services there are meets that are based on social inclusion and interaction that invariably involve refreshments where everyone is welcome.  Children's meeting of my era has  now evolved into 'time out' on a Friday that's now held in the Sardis community hall which locals  will know as the Apostolic Chapel situated opposite the park where board games have been replaced by computer consoles and table tennis but still have the ever faithful crafts table and  tuck shop. Marlene is still as busy as ever but now I see a new 'aunty 'follow in her footsteps. Many will know Linda from the dinnertime play in Ynysfach Primary – Linda Morgan.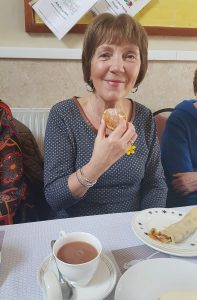 Over the years the vestry has had many uses not only worship. I remember going to baby clinic there when my brother was born and for many years its been an election voting booth and its even been used to give flu injections.
These days, it's still very much multi functional and Mondays its Rainbow Tots for pre school playtime with tea and toast and a place for young mothers to meet and get to know each other .
Thursdays its 'Tea with the King' where there are tea and cakes;  giving a place for people to meet and chat about what's going on locally and in the world. This is an opportunity that's also used to raise money for charity – there is no charge for refreshments it's merely a voluntary collection that's given to a charity suggested from the floor. It has to be said that some of the cakes on offer wouldn't be out of place in the Great British Bake Off.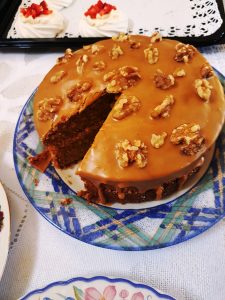 Some years ago Sardis were fortunate to have been given a large sum of money   from Ystradgynlais Baptist Chapel who were closing and with this they built an extension to the vestry in order to house a fully fitted kitchen. Four years ago they were lucky to be presented with a bigger, better, newer kitchen by the Neath Borough Council that has enabled them to provide even more opportunities.
In the autumn during the evangelistic weekend the kitchen is in full use for the women of the congregation to cook the men breakfast and in return the men cook the women dinner. Sounds a fair trade off to me.
At Christmas the vestry provides a Christmas Day lunch with all the trimmings to people in the area who might be lonely or maybe having a hard time for one reason or another that is organized by a friend of the chapel called Carol. That's rounded off with the Queen's Speech and has been visited by the actor Michael Sheen who must have heard what good cooks we have in Resolven .
Can you see a pattern forming? It might be said that God is a comfort but it seems food comes a close second  at Sardis ranging from tea and toast to full English breakfast and sumptuous Sunday lunches.
You can't talk about Sardis without mentioning the men especially John Jervis who if he isn't seen with a sweeping brush in hand he is behind a steering wheel ferrying those  people, whose mobility isn't what it once was, back and forth to Sardis and he is not alone doing this but again he is another constant of my memories of Sardis and the present pastor Fortunato Santos,  has made his mark on Resolven during his 17 years living here. In true Resolven fashion he is still classed as 'new' even after 17 years but if ever there has been someone 'new' who has integrated and become so active and well known as he is I have yet to meet them. As is normal in the village, his name is shortened to "Fort" by many which shows how he has been adopted by the village.
I was pleasantly surprised how a simple visit for a cuppa and a chat brought so many memories flooding back.
REPORT by DIANE SIMS ( RDN Team)
http://resolvendistrictnews.co.uk/wp-content/uploads/2017/10/logo-1-300x41.png
0
0
Ed1
http://resolvendistrictnews.co.uk/wp-content/uploads/2017/10/logo-1-300x41.png
Ed1
2019-02-22 15:43:32
2019-02-22 15:43:32
Diane Sims reports from Sardis