After a very busy December – filled with a carol concert, the Christmas Fayre, a delicious Christmas lunch and a lively party in the Church Hall, we were all glad to have a spell of quiet relaxation and a rest for the digestive system.
However we were soon back together for our January meeting, looking forward to the coming year with our new programme of monthly speakers and outings. We were delighted to welcome Jemma Langdon and Lyn Evans to our meeting, these two very busy health professionals from Resolven had worked hard to acquire two public access defibrillators for our community. However they needed to raise funds to purchase the all-weather cases that would enable this life-saving equipment to be available at all times.
Ynysfach WI decided to donate all the proceeds from our Cake and Craft stall at the Christmas Fayre to this very worthy cause. We were pleased to present a cheque for £473 to Jemma and Lyn and we thanked them for their hard work on behalf of our community.
Following the presentation they both had to rush off to start the night shift!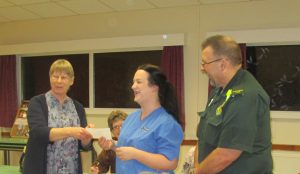 Jenny Colley  presenting cheque to Jemma and Lyn
In keeping with our fund raising, our speaker for the evening was Gerard Rothwell from the Wales Ambulance Service Trust who is the National Public Access Defibrillator Officer. Gerard gave a most interesting and informative talk and demonstration of the use of the defibrillator in the case of a sudden cardiac arrest – we were left in no doubt as to the vital role a local defibrillator can play when every second counts.
We ended the meeting very pleased that we had been able to help provide such an important piece of apparatus for Resolven.
At our February meeting our speaker was Debra John, an actress from Swansea who comes dressed as an historical character and holds us all spell-bound for the whole of her performance. This was Debra's fourth visit to one of our meetings and this time her character was a Victorian gentlewoman who had fallen on hard times and had ended up in the Debtors Prison in Swansea Castle.
Debra weaves a tale that draws you in, and her descriptions are so vivid that you look around almost expecting to see the dreadful situation that she describes. Her tale is carefully researched and full of historical details – how she remembers it all without a pause or any notes I just don't know.
Olwen thanked Debra on behalf of us all, and judging by the applause I'm sure it won't be long before we ask her back for another entertaining and informative story
We are looking forward to our trip to Abergavenny next week, our inter-WI skittles match with our neighbouring groups in Glynneath, Crynant and Cadoxton and our celebration Welsh night in March. The WI can't sit still for long!
JENNY COLLEY ( Pres.Ynysfach WI)
http://resolvendistrictnews.co.uk/wp-content/uploads/2017/10/logo-1-300x41.png
0
0
Ed1
http://resolvendistrictnews.co.uk/wp-content/uploads/2017/10/logo-1-300x41.png
Ed1
2018-02-25 15:55:59
2018-02-25 15:55:59
What has Ynysfach WI been up to?