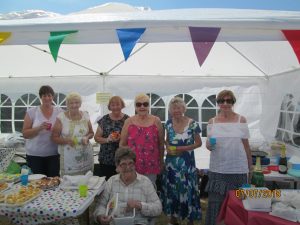 May began with a trip to see the newly opened Trago Mills Store in Merthyr – what an enormous shop which seemed to sell everything! We all enjoyed a good browse followed by a bite to eat in the cafe. We all went home laden with goodies we never even knew we wanted!
Our meeting this month was our annual meeting, in which the committee and President were elected by the members to serve for the coming year, and we debated this years resolution which was to campaign for parity between physical and mental illness. Our members voted unanimously to support this resolution. This was followed by a slide show illustrating all our trips and activities over the last year and a well-earned cup of tea and cake.
The 2018 NFWI Annual Meeting took place in the Motorpoint Arena on Wednesday 6th June and thousands of members for all over England, Wales and the Islands came to Cardiff for this prestigious event in the Woman's Institute calendar. Among them were over three hundred members from Glamorgan Federation. Ynysfach's Jenny Colley attended as delegate for the Cwmnedd group of WI's.
The meeting began in true WI fashion with the singing of Jerusalem and this year Glamorgan's Mrs Norma Morris of Catwg WI  had the honour of accompanying the members on the piano. A truly awe-inspiring sound!
Guest speakers during the day included Dame Stella Rimmington and  Huw Edwards. Both speakers were most entertaining . Stella Rimmington told how she came to be employed by MI5 and eventually became the first female Head of the Service – apparently the model on which Dame Judy Dench based the character of 'M'. Huw Edwards told of his more humble beginnings in LLanelli and his journalistic career that has led to his being the anchor of the BBC News. He spoke too of his nervousness at facing the WI – he had recently presented the royal wedding to 14 million people around the world but talking to 5,000 WI ladies was more scary!
Everyone agreed that it had been an excellent day and they were looking forward to 2019 when the meeting will be held in Bournemouth.
At our monthly meeting in June our speaker was Elizabeth Belcham, a local historian, who told us of 'The bad girls of Swansea'. A most interesting and informative illustrated talk about crime and prostitution from 1870 -1914. Told through the lives of the women brought before the Swansea Police Courts from Swansea, Aberdare, Merthyr Tydfil, Neath, and Aberavon, and imprisoned in Swansea, this was  the story of life in the port of Swansea's backstreets.
On 22nd June we had a trip to Porthcawl on a lovely sunny day, if a little windy! We all thoroughly enjoyed some free time to explore the shops and stroll along the front with a large ice cream. In the early afternoon we went to the Great House Hotel at Laleston for afternoon tea followed by a relaxing sit in their garden with a glass of wine – its a tough life!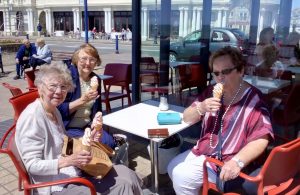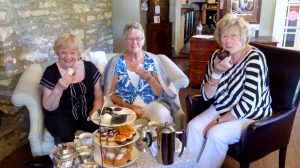 July started with the Resolven Carnival. Eight members of Ynysfach WI took part in the parade dressed as Suffragettes, to celebrate the centenary of the first women to be granted the vote. They looked magnificent with their banners and sashes and did well to march in the scorching weather in their long skirts – a good job that we hadn't chosen to wear the corsetry of the time too! Next year maybe we'll go as bathing belles if its going to be so hot.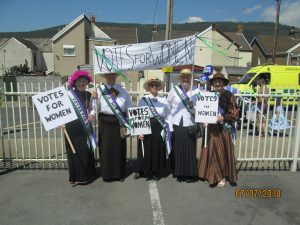 On the carnival field the rest of our valiant members were manning the cake stall – always the busiest stall. In soaring temperatures they cooked welsh cakes all afternoon and frantically tried to keep the rest of the fancy cakes from melting. We raised a good few £s for our funds and lost a good few lbs in the process!
Well done to all who took part in a very successful village event.
On 12th July some of us enjoyed a murder mystery evening hosted by our County Federation-a most entertaining event which involved a delicious two course dinner while trying to unravel a tale of trouble at the village fete when someone took the baking competition a little too seriously and bumped off the judge! Who done it? We didn't guess the right answer but thoroughly enjoyed the evening.
Our July meeting featured a talk by another local historian, Viv Griffiths,  who came to tell us all about the 'Churches of Skewen'. However a technical hitch brought the slide show to a halt so we had a different one on the woollen mill at Neath Abbey. It was a most interesting subject, especially as a few of our members recognised some of the faces in the pictures and could add to Mr Griffiths story.
Finally July 21st saw our Annual County Show held at North Cornelly. We entered 18 items in to  10 classes and came away with 8 prize cards! Liz Jones won first prize for her small cakes and 'best in show' for her sugarcraft model of a market stall which was absolutely exquisite; Carole Jeffrey won second prize for her fabulous bookfolding item; Christine Davies was third in the preserve class and highly commended for her bag made from recycled denim; Jenny Colley was first in the bread roll class and joint third with Christine in the preserves. Ynysfach WI came second in two co-operative classes – the basket of homegrown vegetables and the 'Farmers Market'
Congratulations to all who entered the show, it is a real achievement to win any prize up against the best in the County!
REPORT  by JENNY COLLEY ( President Ynysfach W.I)
http://resolvendistrictnews.co.uk/wp-content/uploads/2017/10/logo-1-300x41.png
0
0
Ed1
http://resolvendistrictnews.co.uk/wp-content/uploads/2017/10/logo-1-300x41.png
Ed1
2018-08-06 11:58:34
2018-08-06 11:58:34
Ynysfach W.I. May to July-What Have They Been Up To?