Table Tennis has been played in Resolven since the 1950's at both the Miners' Welfare and George Kent factory.
Some of the Welfare players: John Wicks, Ken Lewis, Denzil Sandry, Evan John Evans.
  Viv Hill, Denny Funning, Ron Rees, Len Jones, Selwyn Twaite.
Also seen L and R at end of top row—Fred Monk and Ces Funning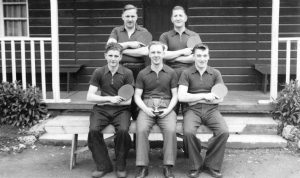 The George Kent team in 1958 included Ivor Lewis, Hopkin Richards, William Thomas, Ron Davies, and Glyn Vivien
In the 1960's & 70's Resolven YMCA carried on the tradition under the leadership of Don Fearn and Bill Owen who entered a team in the Swansea League, such was the success that very soon there were as many as 7 teams playing from the YMCA. In this time they won every division from 1 – 7 the only title to elude them being the Premier.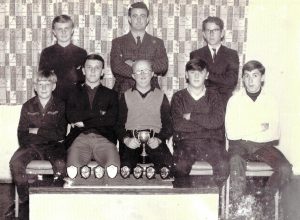 John Fryer, Dennis Bailey, Godfrey Brown,
Ken Guard, Glyn Davies, Royston Stock, Ken Davies. Keith Jones
There were so many players it is hard to remember them all but they included:
 Rennison Edwards, Glyn Howells, Royston Stock, Keith Arnold, Conway Rogers, Keith Jones, Idris James, Paul Rees, Keri Guard, Peter Guard, Godfrey Brown, Dennis Bailey, Tony Sharpe, John Fryer, Ken Lewis, Len Jones, Ken & Glyn Davies, Terry Edwards Bert Geoghan, David Beynon, Gareth Evans. If anyone from these eras knows of more please let us know.
In 1977 due to the declining interest in the YMCA, 2 teams moved to the Cam Gears Sports and Social Club where we are still playing. Players at that time were Gareth Evans, Paul Rees, Keri Guard, Ken Davies, John Fryer, Tony Sharpe, Terry Edwards.
The club runs a thriving social night on Mondays (6 – 9) where players of all abilities and ages play each other and have some good exercise the club has 4 tables and supplies the bats and balls, if you want to try it out.   For anyone interested in playing an alternative sport which can help to keep you healthy and can be played by all ages from 8 – 80 you might consider table tennis as a social evening or if you are really interested you could progress to playing in the Swansea League and even further afield depending on your ability.  We run 4 teams in the Swansea League- one in the Premier division, two in division 1 and one in division 2. (Besides Resolven residents we have players from the Neath area, Hirwaun, Merthyr and Tredegar.)
With so many players having played for our club it is rewarding to see that they have been recognised further afield such as Natasha Rees of Cwmgwrach who went on to represent Wales at a Commonwealth Games in India. The club has had 2 wheelchair players in Martin Evans (Tonna) and Neil Robinson (Laleston) who have represented Great Britain at various Paralympics and have won medals. Neil is now a coach for the British Paralympics table tennis team.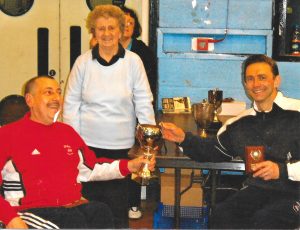 Martin Evans and Keith Jones with Betty Gray MBE (President of Swansea League
Players have also represented the Swansea League in the Welsh League including Gareth Evans, Randall Sims, Morgan Siddley and Ceri Higgon.
 REPORT COMPILED  BY GARETH EVANS
***Gareth has represented West Wales as a director on the board of Table Tennis Wales and for a number of years organised and ran the Welsh League Championship. He is currently secretary for the Swansea League.
As secretary of the Cam Gears table tennis club he would like to have more Resolven residents take up the sport either socially or with a view to play in the Leagues. He has been playing for 57 years and would like to pass some of his experience on to new players and old players if they would like to return to the game— Emphasis being on enjoyment, keeping moderately fit and meeting new people.
His telephone number  is 01639 710475, mob 07854032758.
 Email:  gareth_evans3 @hotmail.com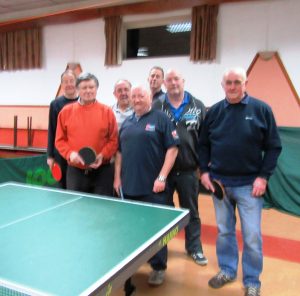 Some of the Monday night group in Cam Gears Club:
BACK ROW- John Jones, Bob Cutting, Nick Arnold, Paul Gillespie
FRONT ROW- Dai Davies,Gareth Evans, Richard Norton
http://resolvendistrictnews.co.uk/wp-content/uploads/2017/10/logo-1-300x41.png
0
0
Ed1
http://resolvendistrictnews.co.uk/wp-content/uploads/2017/10/logo-1-300x41.png
Ed1
2018-02-05 20:16:36
2018-02-06 11:19:23
Table Tennis in Resolven